What is Concrete Graphics®?
Concrete Graphics is a foil-based decal layered with a coating of glass beads making it reflective and anti-slip. Designed for indoor and outdoor use, Concrete Graphics easily conforms to grooves and takes the shape of any surface, making it look like it's been painted on. Concrete Graphics can be custom printed and cut per your specifications. They are easily installed by using a peel-and-stick application. We recommend using our special Concrete Graphics roller to make the application faster and easier!
Concrete Graphics is an ideal sign product for way-finding, event promotion, facility safety, advertising, and getting your message in front of pedestrians.
Digitally printed to meet your customization needs with a quick turnaround time
Anti-skid, meeting international anti-slip safety standards
Durable, withstanding pedestrian traffic
Perfect for use on concrete, brick, and tile surfaces
Easy to install - no special equipment needed; however, a Concrete Graphics roller is recommended
Conformable, making surfaces look painted
Available in custom prints or blank rolls for UV printing
Flexi-Floor Graphics™
Interior vinyl floor graphics are produced with an over-laminate that is slip-resistant and protects the printed graphics from everyday maintenance. Flexi-Floor Graphics can be applied to waxed and no-waxed commercial PVC tile, certain ceramic tile, sealed concrete, and commercial carpet.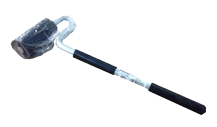 Concrete Graphics Roller
Our special Concrete Graphics Roller to make application faster and easier.
ShopFLOOR Graphics™
This decal is made with a protective polycarbonate overlay making it resistant to typical wheel traffic from forklift and tow motors in manufacturing and warehouse environments. Graphics are sub-surface printed with UV resistant inks, allowing it to resist chemicals and solvents.
Omni Graphics™
Universal Media for short term applications. For indoor floors and walls. Short Term use on smooth outdoor surfaces. Also works great on carpet, tile, wood, and painted metal surfaces. Matte Finish, Slip Resistant-ASTM D -2047 certified and requires no over-laminate. Can easily be applied and removed and in most cases is reposition-able.
WindowPerf™
Use these one-way vision vinyl decals to spread your message to passersby without altering your line of sight from inside. Made from a 7-mil cast vinyl film that allows a full image to be seen on the outside while granting an unobstructed view from the inside. The 40% perforation pattern enhances light transmission for a good balance of viewing through the window. (Decals have a 60/40 (vinyl/clear) viewing ratio.)
Barcode Armor
Durable, clear protective cover for bar codes and quick response (QR) codes. Features a permanent adhesive that is designed to scan through for quality and inventory control. This decal can withstand foot traffic and temperature changes.
Carpet Graphics™
A pressure-sensitive graphic for indoor carpets that can withstand abrasion and heavy foot traffic as well as cleaning solutions, Carpet Graphics meet ASTM non-slip standards. The decals are easily removed with no adhesive residue.
Concrete Graphics® LO-TAC
A decal made with less aggressive adhesive for high-end applications such as marble or granite. Use LO-TAC for applications where extra care is required.
Concrete Graphics® Blanks
Order blank rolls of Concrete Graphics and print your own.